About Fred from Kathy Boyce on Vimeo.
Fred Boyce
There are landscape painters, and there are wildlife painters. And then there is Fred Boyce, a 92-year-old painter with a lifelong passion of painting the beauty of the natural world. Based in Reno since '73, Boyce spent years learning the craft through jobs with cartoonists and advertising agencies, and a booming freelance career. His art has been featured on covers of Western Horseman Magazine and Grey's Sporting Journal, among others. Growing up in the Depression, Boyce was not encouraged to pursue art by his family, which he described as among "the poorest of the poor." Even almost 80 years later, Boyce vividly remembers the moment when he knew he would be an artist. While his English teacher was diagramming sentences on the board in sixth grade, class was disrupted when his peers noticed that Boyce was drawing a bear. Furious at the interruption, the teacher stomped back to Boyce's desk and looked at the sketch; she stopped in her tracks and told Boyce she would deal with him after class. After the bell, the teacher flipped through Boyce's textbook, which had sketches filling the margins. "She folded the book up and said, 'Even a good artist has to know English. Pay attention in this class,'" Boyce recalled. "And you know what I heard? Good artist. And it made a big difference to me."
With no formal art education, he began as an apprentice for a cartoonist at age 16, and spent the following 20 years moving from one part of the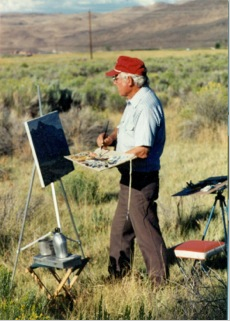 commercial art business to another, which eventually brought him to Buffalo, N.Y. as the art director for an ad agency. In 1957, after 19 years of moving up the ranks, he quit the commercial business and began freelancing. The beauty of the sprawling landscape in New England inspired him to develop his watercolor, followed by oil and acrylic, painting skills. "I was traveling through some of the most beautiful New England countryside, and I kept seeing these things that just pulled my spirit. I just felt like, 'I have to paint that,'" Boyce said. When Boyce and his family moved to Auburn in 1963, and then Reno 10 years later, he was, and still is, captivated by the landscape of the Nevada desert and the Sierra Nevada Mountains.
"For what resonates with me and my spirit, I couldn't find a better place to live," said Boyce. "I've got this whole Nevada — they call it 'the big empty' out in that desert, but it's not empty, it's loaded with beauty —and I can go into the Sierras. As an artist it's fabulous." Boyce gestured to his backyard, noting that many of his paintings include the hills in the distance and the brook in the foreground. Originally from San Antonio, Texas, Boyce was introduced to the backcountry of this region by going on hunting trips with friends. "A couple of my friends would invite me to go deer hunting in October every year," he reminisced. "I didn't even have a license or a gun; I just went with them with my arts and my camera."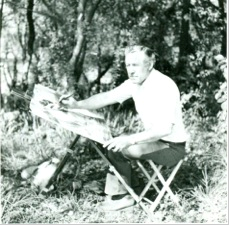 By adding details of the grazing deer or circling hawks to his nature paintings, Boyce quickly made a name for himself in the hunting and wildlife community in the area.
In 1987, Boyce entered the second-annual trout stamp contest for the state of Nevada; out of almost 1,000 entries, from all over the country, he took first place and has his trout painting forever emblemized on the stamp. Around the same time, he was commissioned by the state of Nevada to paint each of the state's nine record big game animals, featured in the "Nevada Wildlife Record Book." Boyce almost always builds the composition of each piece by sourcing from his extensive collection of stock photos and illustrations.
"When I say I want to capture the poetry of the subject, I redesign and simplify," he explained. "I take off on [reference images], and now I'm giving myself the freedom to do more experimental things because, frankly, I don't think an artist, in one lifetime, can experience all of the fascinating possibilities there are with the art."
Fred's wife Harriett worked closely with him over the years as the "marketer" of his work.  After 70 years of marriage she passed away in May 2013. Fred's daughter Kathy has stepped in to keep the family business vibrant and growing.  Together she and Fred hosted an extremly successful art show in November 2013 and since that time Fred continues to paint almost everyday and says he needs another 50 years to create all the paintings he has in mind. He says, "When there's a flow of spiritual energy, something is happening. What I want to do is to capture the poetry of that subject; not the detail, but the poetry."  Truly Fred is a gift to all of us who love nature and the majesty of the West.